Eté /

Summer 2004


Ailleurs /

Going places

Toutes les photos du Japon sont maintenant dans la galerie. Les photos du Mexique y seront bientôt.

Japon
Du 23 juillet au 6 août, Nadia était au Japon pour une conférence...et est restée visiter un peu puisque Riwal était pour sa part à une conférence à Victoria.
Les jardins, la nourriture, la gentillesse des Japonais... Nadia est rentrée enchantée./ From July 23 to August 6, Nadia was in Japan for a conference...and stayed to visit (as Riwal was in Victoria for a conference also at that time)...Gardens, Food and sweet, sweet people...Nadia was delighted !


Mexique
Nous voilà de retour de notre fabuleux, merveilleux et très coloré voyage de noces ! Nous sommes ravis de ce temps passé tous les deux et de la découverte d'un petit bout de Mexique. Finalement pas de rencontres avec des animaux exotiques (modulo quelques très gros lézards...) et autres bêtes féroces (sauf peut-être quelques cris devinés de singes hurleurs...). Voici notre itinéraire :


We are just back from our fabulous, marvellous and colorful honeymoon ! This special time together was most welcome and discovering a little bit of Mexico was fantastic. After all we did not

meet

any exotic animal (except maybe a few very big lizards...) or ferocious beast (though we guessed we might have heard a few howler monkeys...). Our itinerary :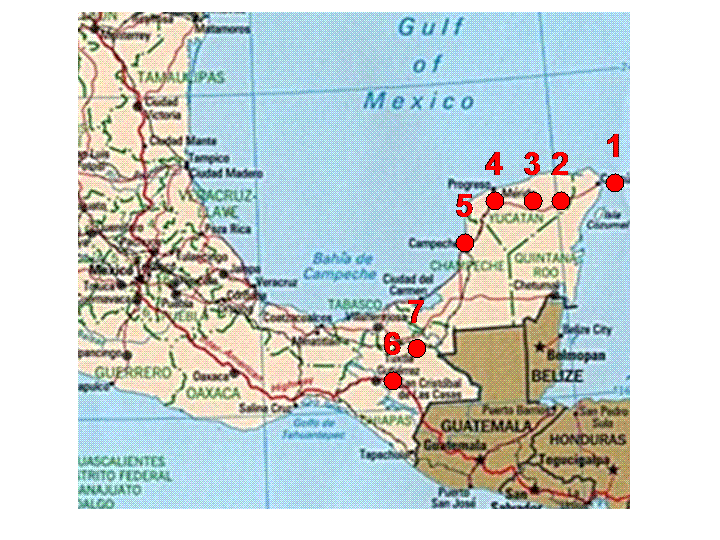 1 - Isla Mujeres
2 - Valladolid
3 - Chichen Itza
4 - Merida
5 - Campeche
6 - San Cristobal de las Casas
7 - Palenque
Et quelques images (pour l'instant) /
And a few pictures (for now)
Valladolid

Isla Mujeres

Campeche
Merida



| | | | |
| --- | --- | --- | --- |
| | | | |
| San Cristobal | San Cristobal | San Cristobal | Palenque |
Abrupt/

Steep

Chichen Itza


From/

De

San Cristobal

to /

a

Palenque

Palenque

Maya glyphs a/

at

Palenque
| | | | |
| --- | --- | --- | --- |
| | | | |
| | Isla Mujeres | Isla Mujeres | |
[Retour à la page de nouvelles jusqu'à septembre 2004

/Back to the News (up to Sept 2004) page]
[Dernières nouvelles / Latest News]