Archives-Evénements
---
Voeux/
Christmas

pour 2009


Cliquer pour aggrandir /

Click to enlarge



---
Voeux/
Christmas

pour 2008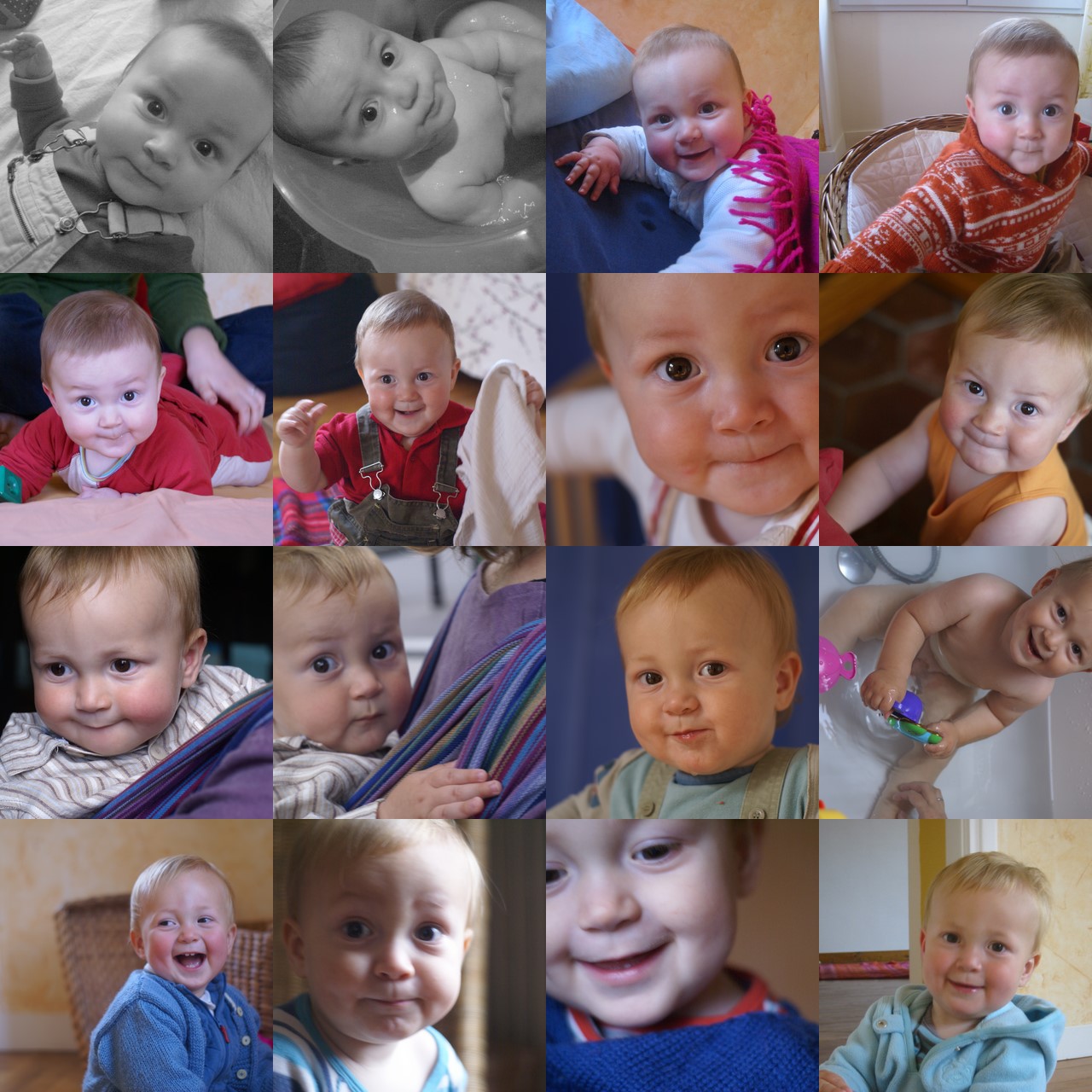 Cliquer pour aggrandir /

Click to enlarge

L'année 2007 a vu Nathan pousser et grandir, marcher et parler («balle», «[e]scargot», «[fro]mage», ce dernier très souvent et avec avidité). Il salue les trains qui passent à côté de la maison («paaaaaaaasse...parti») et reconnaît des tas d'animaux sauvages qui ne passent pas à côté de la maison. Ses parents ne poussent et ne grandissent pas, mais ils apprennent aussi plein de noms d'animaux sauvages (que c'est laid un pangolin !). Nous nous sentons maintenant bien installés à SMO et bien calés sur les grands évènements du riant Val d'Orge : la Fête de la Tomate ou Les Chemins de Lecture.
Pour nos aventures de l'été, Nathan a fait avec patience beaucoup de vélo à Oléron avant de découvrir les joies du camping en Dordogne et de renverser ses premiers châteaux de sable en Bretagne.
Petitou devenant plus autonome (comprendre: faisant de longues siestes), nous avons pu jardiner et produire fraises, tomates et compost. Avec nos achats de légumes produits dans notre pâté de maisons, notre réseau débutant d'achats en gros de céréales bio (avec une dizaine de voisins et amis) et nos diverses pratiques occultes de parentage et d'entretien ménager, nous travaillons (et jouons aussi beaucoup) à réduire notre empreinte écologique.
Nous continuons à mettre nouvelles et photos chez Pipo

Nous vous souhaitons une belle et douce année 2008 et toutes sortes de moments de calme et de joie, de rires et de jeux, de tendresse et de partage à vivre avec ceux qui vous sont chers.

2007 has nearly gone by, Nathan has grown several inches, has started to walk and talk («ball», «snail», «cheese», the latter said with appetite). He comments the regular trains that go by our house («paaassssing... gone») and recognizes a number of wild animals which do not go by our house (to our knowledge). His parents have not grown an inch, but they have learned new names of wild animals and have their heads full of children's books and songs ('Would you eat them in a bin? Would you with a pangolin?'). We feel well settled in SMO, we know which events highlight which season (the Tomato Festival in the summer, the Reading Paths in autumn...).
For our summer adventures, Nathan has cycled patiently through and through Oléron Island, has discovered the comfort of camping and has overturned his first sand castles in Brittany.
As Nathan has become more autonomous (i.e. longer naps), we have been able to take care of the garden and produce strawberries, tomatoes and compost. With our very local vegetables bought from a neighbor, our beginning network for purchasing organic cereals (hundreds of pounds at a time, with a dozen neighors and friends), and various fun ways to deal with the house and parenting, we are trying to reduce our environmental footprint.
We continue to put up news and pictures at Pipo's
We wish you a wonderful and sweet New Year, and many moments of peace and joy, of laughter and games, of love and sharing with the ones dear to your heart.



---
Voeux/
Christmas

pour 2005

Cliquer pour accéder au pdf et à la lettre associée /
Click to enlarge and get the joint pdf letter
[456 Ko]
Snow on heather and sun in the fern
wishing you on a Scottish tune
A very beautiful, blissful, quietful or quite full new year
Traveling smiles with haggis aboard un Dormeur Caledonien ou un Ecossais Volant

R&N (reunited in September 2005)
---
14 août 2004 Pie Bye Party
We loved having you around us on Saturday. It was really sweet to see and feel you cared...
We hope we were not that busy (we are not used at all to throw big parties..) and overwhelmed
that you did not feel how much it mattered to see each of you there !
We care a lot about each of you...and are truly sad to leave.
Please, do not be strangers ! Here the pdf of our contact informations and whereabouts.



Cliquer pour agrandir /
Click to enlarge
---